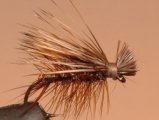 Those new to fly fishing face a dizzying number of decisions—long or short, fast or slow, glass or grass, line color, click and pawl or disc drag, expensive or cheap…….  Even after staggering through the all the equipment decisions, you then have even more choices about what to put on the end of the line. What flies you carry will depend on a number of factors—climate and conditions, hatches, water levels and clarity, etc.  But, there are some basic trout flies that you should never leave home without.
After scouring the internet for "Top 10 (or more) Fly" recommendations, I listed each in a spreadsheet and tallied the number of time a fly was common across the various lists. Shown below (in descending order from most frequent to least) are the flies most often found in "Top 10" lists of trout flies.
Elk Hair Caddis
Hare's Ear Nymph
Adams (parachute most frequently)
Woolly Bugger (black, then olive)
Pheasant Tail Nymph
Clouser Minnow
Blue Winged Olive
Copper John
Griffith's Gnat
Hoppers
You'll always run into the persnickety trout that will only taking a size 32 of something you don't have, but you'll have an above average chance of taking fish if your fly box has this basic set of flies in it. And, always stop into the local fly shop for their recommendations. If you're not fishing a home field advantage stream, the locals may provide you with an away-game favorite that could save the day.
I know there is nothing like a "Top 10 List" to raise the hackles (pardon the pun) of those whose favorite didn't make the list, but you have to start somewhere.